Cassie Cash: A Mother Who Holds Fast
by Max Cash
Originally Published in The Groundhog
Volume 13, Number 5, May 1995
My mother, Cassie Jones Cash, was an infant of 10 months when her father, Dixie David Jones, died. Her mother, Martha Rice Jones, was the daughter of John and Susan Rice. The Rices and Joneses lived near Rockmart, Ga.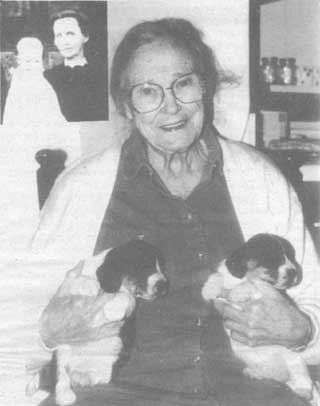 Cassie Jones Cash
(Inset: Cassie as a baby held by Grandmother Harrell)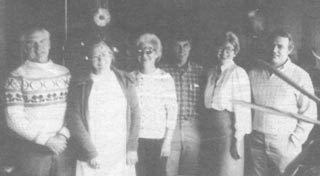 Max Cash, Cassie Jones Cash, Eva Crabtree, Edmund Cash, Dorothy Marsh, and Edward Cash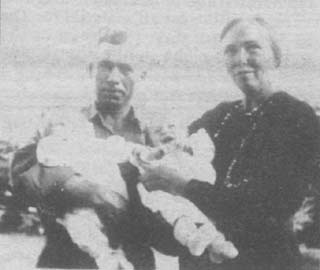 Albert and Cassie holding twins, Edmund and Edward
Cassie's father was a music teacher. Mother was the youngest of eight children, four girls and four boys. She was born July 22, 1906. After her father's death, the family moved to Lebanon, Ala. Lebanon is about 5 miles south of Fort Payne. The move to Lebanon was about 1912. They owned a nice farm in the Lebanon Community and farmed there for a few years. In 1920, they moved to Lookout Mountain about 4 miles east of Mentone. The farm they owned here in Mentone for a number of years is now owned by Dr. Edward R. Annis.
Mother met my father, Albert Cash, at a square dance in the latter part of 1921, and they were married in 1923. Both of them slipped off to get married. Since they slipped off, Mother borrowed a dress from her sister-in-law, Jessie Jones. Albert and Cassie were married in Menlo, Ga., by Justice of the Peace George Kling.
Albert and Cassie had five children: Max, Dorothy, Eva, Edward and Edmond. Before the twins, Edward and Edmond, were born, mother dreamed that she would have twins and even dreamed what their names would be. On her next visit to the doctor, he told her that she would be having twins. Miss Martha Berry, founder of Berry College, insisted on helping name them. She said anybody could be named Edward and Edmond. She wanted them named Edward Albert and Edmond Alfred, and so it was.
William Cash, our ancestor, settled in Westmoreland County, Virginia, around 1680. The Cashes moved to North Carolina and then to the Atlanta, Georgia, area about 1830, and on to the Mentone area about 1890.
Issiac Cash, my great grandfather, homesteaded 120 acres of land about 6 miles south of Mentone, near the forks of Little River in 1898. Sam Cash, Issiac's son, married Maude Willingham. They raised nine children: Albert, Joe, Bascom, Louie, Sam, Harry, Billy, Thelma, and Grace. Billy and Grace are the only two living.
Sam Cash, my grandfather, was a coal miner and farmer. He worked in the mines in Kentucky and Alabama, and he also worked in the Lahusage mines about 4 miles east of Mentone. Sam was also fireman on the small train (dinky line) that hauled coal from the mines to the east brow of Lookout Mountain where it was dumped into a large wood shoot. The coal went down the shoot to the valley where it was loaded on railroad cars and shipped away.
My father, Albert Cash, was a rock mason and carpenter. He was caretaker of the Martha Berry property here on Lookout Mountain.
Daddy and Mr. H. F. Shigley were the principle builders of the log and rock house Martha Berry built near Moon Lake in the 1930s. Some of the logs in this house were 108 years when the house was built. It is still a very beautiful house now owned by Mrs. Charlie Sheppard.
Daddy and some of the masons and workers from Mentone helped build the beautiful Frost Memorial Chapel on the Campus of Berry College near Rome, Ga.
One thing I am about to forget--three of the Cash brothers worked on the old Rock Wall up Lookout Mountain: Albert, Bascom, and Louie. The new rock wall was recently dedicated, thanks to Dr. Pat Seymour.
Albert and Cassie Cash have 18 grandchildren and 18 great grandchildren. Mother and Daddy have been members of the Mentone Wesleyan Church since the late 1920s. Daddy passed away in 1951. For a number of years, life wasn't easy for Mother, but she made it!
Back to The Groundhog Archives Page
Copyright © 2008 Skye Enterprises. All rights reserved.